OPENVPN: Setup VPN Client
How to connect via OpenVPN
For macOS please see masOS or https://tunnelblick.net/
All of our services includes OpenVPN access, this guide will help you through connecting to it on a Windows platform, it is fairly similar on other Operating systems aswell but if you have issues, please contact our support team.

First you need to install OpenVPN GUI by downloading it on this link: https://openvpn.net/index.php/open-source/downloads.html - From there simply open it once downloaded and run through the installer process.

Once thats done, you need to login to your client area and click access on your service


From within the service page, you will find a list of app's you can install click on OpenVPN

You will see and install box click install wait a few minutes for it to finish
Once installed you will see Open vpn on your installed app's list Click on the info tab and a box will open with a link to download your configuration file.
Download and save this file.

From there, all you have to do is locate the downloaded file and copy it into your OpenVPN config folder, that folder is typically on this path: C:\Program Files\OpenVPN\config - but that may differ a bit depending on your Windows version etc.

Once you have copied the configuration file to that path, right click on your OpenVPN GUI icon at the bottom right corner of your statusbar: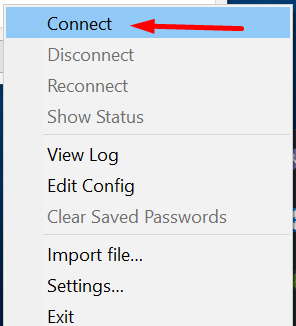 Do note if you have more than a single VPN configuration saved, it will show the name of the configuration file, hover over it and you will see the connect option.
After you click connect your see this box pop up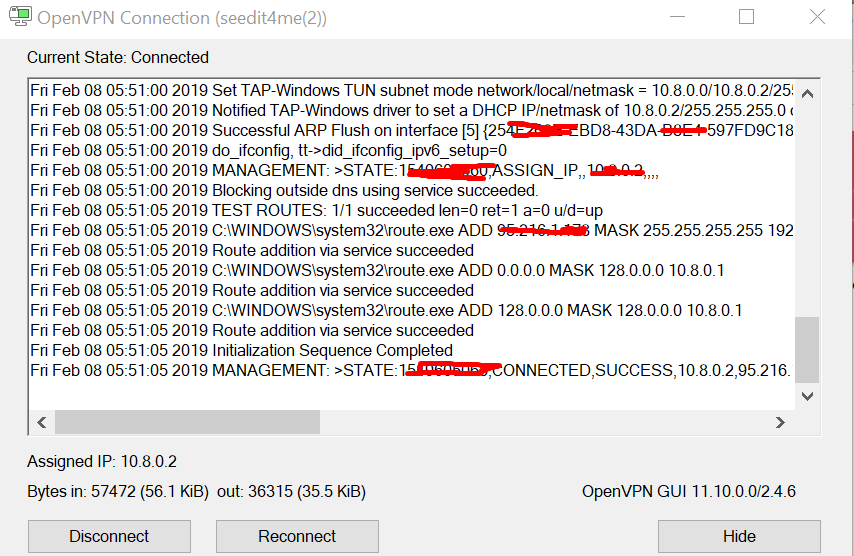 Thats it your connected and behind a VPN.
For Ubuntu please see Linux

1. Install the Gnome Network Connection Manager:
Open Terminal application and run:
sudo apt install network-manager-openvpn-gnome
(choose Y and accept dependencies)
2. Import the OVPN file from command line
Again, from Terminal application, run the following:
sudo nmcli connection import type openvpn file /path/to/nameofyour.ovpn
3. Establish VPN connection for the first time
Again, from Terminal application, run the following:
nmcli connection up nameofyour
And that's it. The connection named 'nameofyour' should now be added to Network Manager so you can open and close it using the Network Manager GUI.